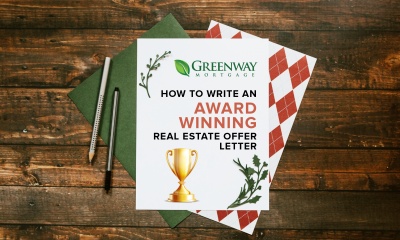 I think we can all agree that 2020 has been anything but a normal year. However, one interesting bright spot is in the realm of the housing market. Mortgage rates are at all-time lows and homebuyers are taking advantage of it, creating a very competitive real estate market. If you've been house hunting you know what we're talking about.
With so few houses available today, competition is heating up among home buyers. It's important to be ready for a bidding war, especially if you've found your dream home. How can you make yourself stand out? A real estate offer letter.
Data from Redfin found that in a bidding war, a personal cover letter can improve an offer's likelihood of success by 52% - Wow! We're here to share a few tips and help you write an award-winning letter so your dream home doesn't slip away.
Before you start, gather the few essential elements for the letter such as the property's address and the buyer and seller's names. Here are a few more tips on what else to include when writing that convincing offer letter.
#1 Sincere Flattery Goes a Long Way – make an emotional appeal!
Explain why you want the property.

Tell the seller why you love their home and why it's an excellent fit for your family. For instance, if the seller has lived in their home for 20+ years and raised a family of their own there, they may be focused on selling their home to someone who will take good care of it.
#2 Make a Personal Connection
During your walk-through take note of some items in the house. For example, did you love their garden? Was your alma mater's flag hanging in the garage?

Big or small, by sharing a common interest in your letter, you'll make yourself more relatable.

Don't go overboard – keep it short and sweet! The key is to be sincere in a sentence or two.
#3 Provide Your Offer Details
In your letter, make sure to include your offer price, earnest money deposit, loan status and the amount of your down payment.
#4 Include Your Mortgage Pre-Approval Letter
A pre-approval letter is an official letter from your lender (Greenway Mortgage) that provides documentation of exactly how much you are approved to borrow.

Sellers look for buyers that are pre-approved because it gives them confidence that you can secure the financing needed to complete the home purchase.
#5 Outline your Contingencies
Contingencies are the conditions that must be met by either the buyer or the seller before the home buying process can move forward.

Common contingencies include securing financing for the property, a home inspection and home appraisal and sale of the buyer's existing house.

Be transparent about your expectations. Include the proposed closing date.
#6 Proofread Your Letter
#7 Keep it to One Page
Remember what we said before? Short and sweet. No one wants to read a lengthy letter of your personal history.

Keep your letter to one page, even if you have to make a few edits.

Focus on a few of the most important reasons why you are the BEST buyer for the home.
#8 Thank You
Don't forget to close with a thank you!

Finish the letter off by expressing your appreciation that the seller is considering your offer and reiterate why you are the perfect buyer.
Bottom Line:
Don't give up! If you think you're in danger of losing your bid to another buyer try using our tips above to write a short letter to the seller. You may think that your only option is to go above the asking price to sweeten your purchase offer. However, including an earnest money deposit shows the seller you're a serious buyer. Reach out to a
trusted real estate professional
to be sure you have the guidance you need as the competition for homes continues to heat up!