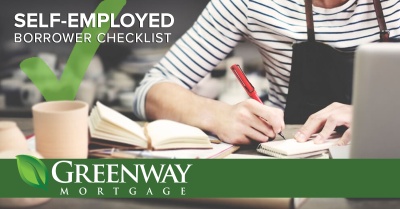 It's always been a little tougher for self-employed borrowers to obtain a home loan then it is for regular W-2 employees. And, since the COVID-19 pandemic, self-employed borrowers are now required to provide even more information to prove their income to the lender. For instance, a self-employed borrower will now need to provide a profit-and-loss statement as well as their 2 most recent months' worth of business deposit account statements at the time of application.
Many lenders are implementing temporary eligibility requirements for self-employed borrowers based on announcements made by Fannie Mae and Freddie Mac which will remain in effect until further notice. Fannie Mae issued a lender letter in March 2020 that has since been updated several times describing new documentation requirements for self-employed loan applicants. Greenway Mortgage continues to monitor the situation to keep everyone informed and updated.
If you are self-employed and are currently looking for a mortgage, here is a checklist that you should refer to, to ensure you've got everything in order for a smooth mortgage process. In addition to the standard tax return requirements, the following documents must be provided: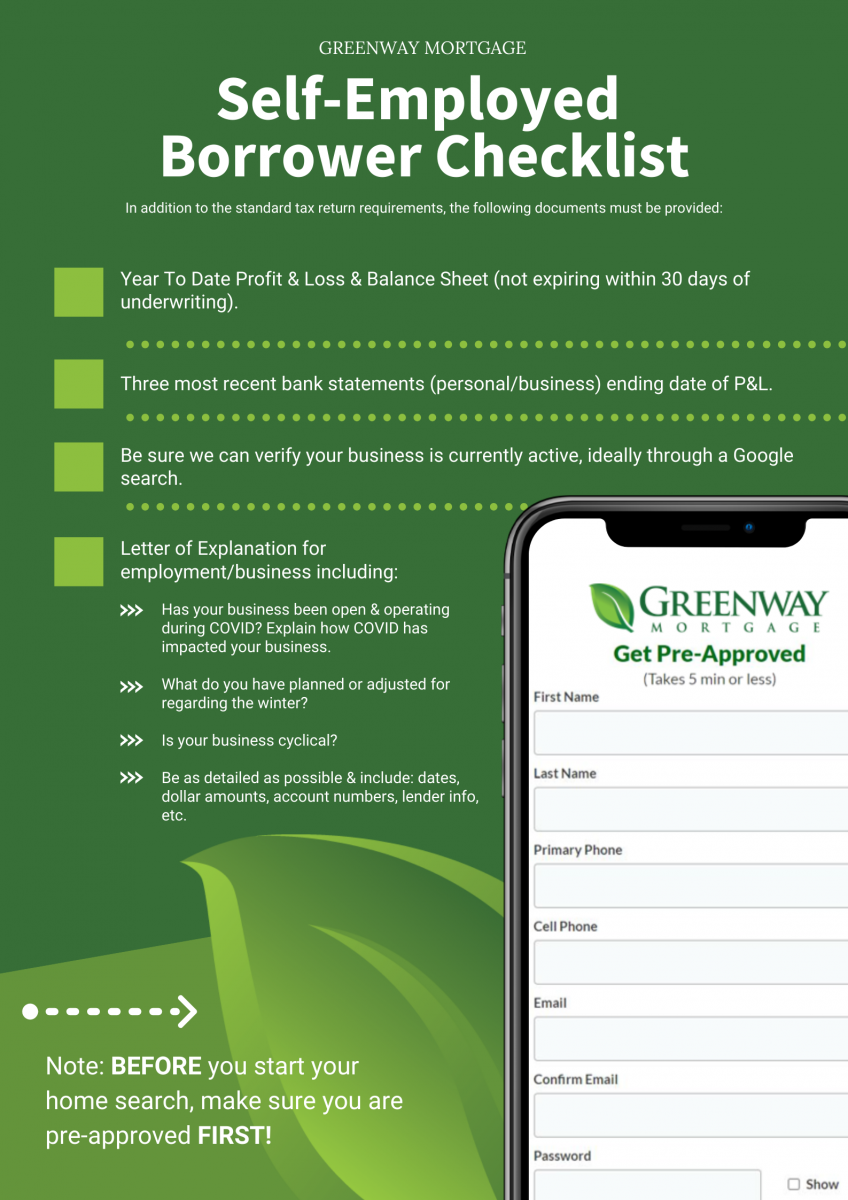 Is it worth getting a mortgage if you're self-employed during COVID-19?
With interest rates still all all-time lows, this is a very good time to speak with a Loan Officer at Greenway Mortgage. If you're serious about buying a home (or refinancing), make sure you get pre-approved FIRST, especially BEFORE your home search.
Getting pre-approved for a home loan is more important than ever due to COVID-19. With homes still occupied by the sellers, they will sometimes only allow showings from pre-approved buyers to minimize traffic. Most importantly, it shows the seller that you're serious, making you that much closer to obtaining your dream home.
You will find that some things have changed, largely as a result of the need for social distancing. For instance:
Online Mortgage Applications

Virtual open houses are sometimes available

Remote appraisals

Unaccompanied home inspections

Physical closings have become rare if not impossible in some areas. Fear not, Greenway Mortgage has the ability to perform e-closings!
Bottom Line:
The best advice that we can give to any self-employed borrower during the pandemic is to look over the new document requirements and discuss them with their loan officer at Greenway Mortgage. Prepare the necessary financial statements and gather bank statements, receipts, contracts and other documentation likely needed. Time the loan application so that all this is recent enough that it will clear the new, higher benchmarks. Most of all, if you have any questions don't hesitate to reach out to us!