Blog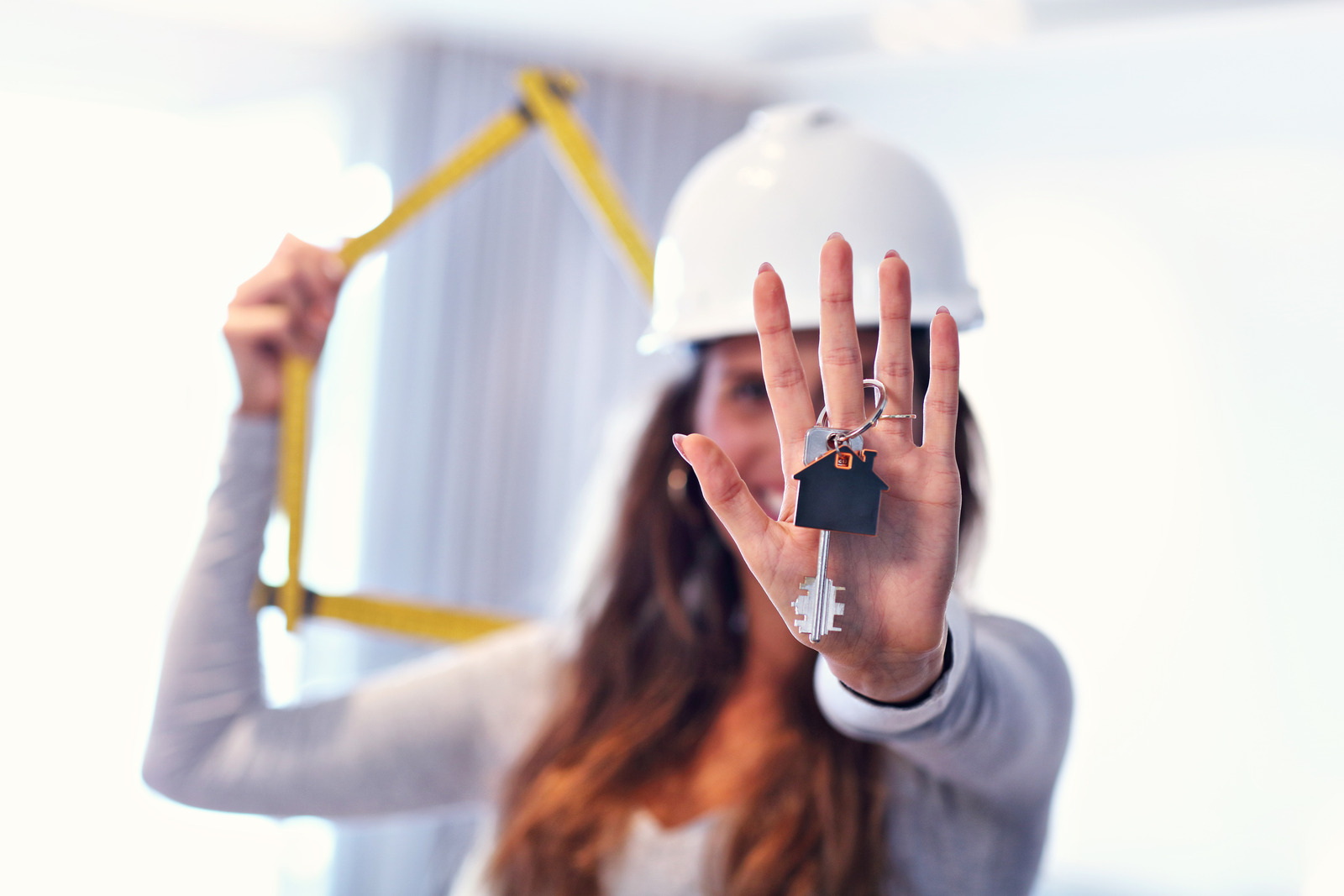 Key Points
May is Home Remodeling Month
The home improvement industry is flourishing
Not all home renovations deliver the same ROI
Top 10 home renovation projects with max ROI (according to Zonda Media's 2023 Cost vs. Value Report)
Greenway's Home Renovation Loans
---
Happy May and Happy Home Remodeling Month! We're excited to share with you this some of this year's top 10 home improvement projects that have the highest ROI.
If you're planning on selling your home in 2023 or if you're simply looking to do some home renovation projects you've come to the right place. With the red hot real estate market, home prices rising, and competition among home buyers fierce, any upgrades you make to your home could go a long way in increasing your home's value while making it even more appealing to buyers if you're planning on selling.
The Home Improvement Industry
It's no surprise that the home improvement industry is flourishing. During the pandemic and even now, Americans have truly learned the importance of "home". In fact, the total amount spent on home renovations and upgrades soared by nearly 27% between 2020 and 2022, according to TodaysHomeowner.com. We think that says a lot!
Statistics from the Joint Center for Housing Studies of Harvard University (JCHS), show that homeowners spent $337 billion on home improvements and repairs in 2020, $368 billion in 2021, and an estimated $427 billion in 2022. Home improvements are expected to grow even more in 2023 and they will continue to grow as high mortgage rates will entice homeowners to renovate their homes instead of selling.
What Exactly is ROI?
ROI stands for "return on investment" and it is used to measure how much of an investment you could get back when you sell your home. It's important to note that different home improvements yield different ROIs.
According to DesignerPremier.com, in 2023, a home improvement project's average ROI is 56%. What does that mean? If a homeowner sells their home, they'll receive $56 back for every $100 spent on home improvements.
Exterior projects have the highest ROI, some over 100%. Creating outdoor spaces was (and still is) a top priority for homeowners during Covid since many of us couldn't leave our homes or go on that planned vacation.
Before You Start Your Home Remodeling Project
Before starting any project, you'll want to take into consideration these 3 things.
First, the real estate market. If you want to increase your resale value, speak with your local real estate agent. They'll be able to assess your home to let you know if the improvements you want to make will add value.

Second, your budget. Determine how much you can afford before starting any home renovation project.

Last, decide if you'll attempt the home improvement project yourself (DIY) or if you'll hire a professional to do the job. It's important to take all of this into consideration before moving forward especially because hiring a professional can cost a bit more!
Are you ready to take your home to the next level? Here's a list of the top 10 home renovation projects that yield that best ROI in the United States.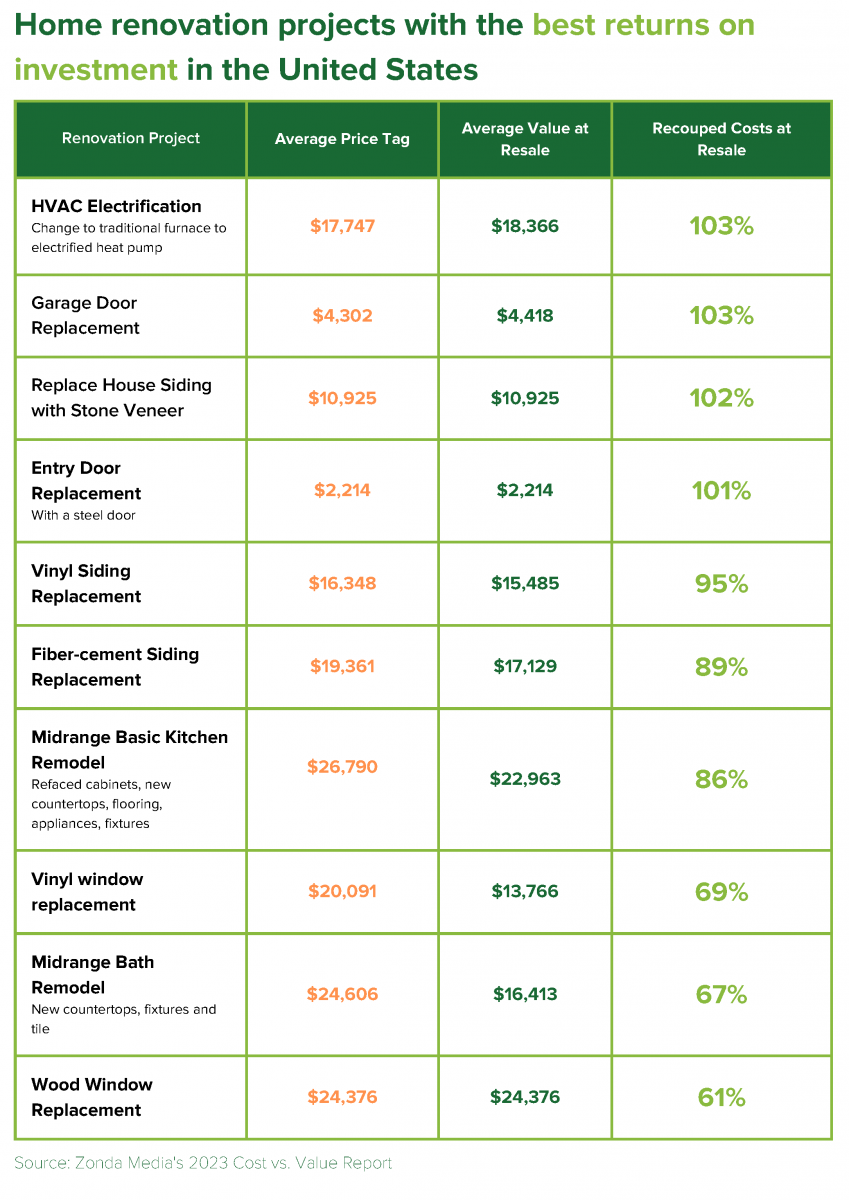 Source: Zonda Media's 2023 Cost vs. Value report
As you can see, only a few projects could deliver a 100% return on investment like converting a heating, ventilation, and AC system to electric.
Kitchens are a huge selling point and can be one of the most expensive rooms to remodel fully, but a minor kitchen renovation can get you an 86% ROI. If a kitchen remodel is on your list, think about updating the cabinets and countertops, giving your kitchen a fresh coat of paint, or updating the backsplash. Small enhancements like these will provide a high return. Don't forget the bathroom! A minor bathroom remodel (new countertops, fixtures, and tile) yields a 67% ROI. Major remodels aren't always necessary.
Another easy home renovation project to tackle is the garage door as this is something potential home buyers notice first. Your ROI here is 103%. Need a new front door? A new entry door is another crucial aspect of the home's perceived value. Investing in a new front (steel) door has an average ROI of 101%.
Replacing old draft windows with new ones can give you a ROI of 69%. A quality vinyl window will also save you money on energy bills because the insulation in the frame of the window itself is energy efficient. Additionally, vinyl windows require no maintenance because they never need painting or scraping. It's clear, vinyl windows give you a great bang for your buck!
Did we mention we offer Energy Efficient Mortgages? Click here to learn more.
Bottom Line:
With home prices on the rise and a tight supply of homes on the market, more people are choosing to fix up their current home rather than looking for a new house.
If a home renovation is on your road map this year, you may want to consider a Home Renovation Loan from Greenway Mortgage. Whether your home improvement projects are large or small, a renovation loan can help you get the job done and it'll improve the overall value of your home as well.
Although you may be able to pay for home improvements with a personal loan or other types of financing, these methods have higher interest rates and monthly payments.
Instead, you can combine the purchase price plus the renovation costs into one mortgage payment or refinance your existing mortgage plus construction costs into a new mortgage. Our renovation programs make it easy for you to improve your property by including the extra financing in a purchase or refinance loan.
Our Renovation Loans Include:
FHA 203 K Program
Streamlined 203K
Standard 203K
HomeStyle
If you're interested in learning more about how a Renovation Loan can help you, contact us today or visit our website here.