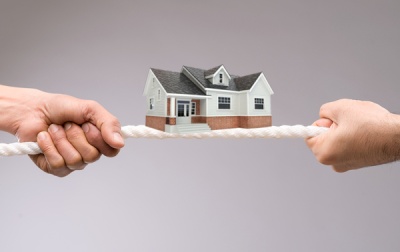 Bidding wars seemed to be the norm in 2021. And if you were searching for a home, you know this to be true. Will bidding wars still be a thing in 2022?
According to a Redfin report, 72% (nearly 2 in 3) of homebuyers faced a bidding war last year. Bidding wars made an already challenging, pricy real estate market even more so. Some buyers were forced to waive contingencies, skip inspections, and make offers well above the asking price just to get ahead of the competition! In addition, there were even some homebuyers who made all-cash offers which made the competition even steeper. Surely, this can make anyone feel rushed when trying to make one of the biggest decisions of their life.
If you're currently on the hunt for the home of your dreams, don't feel discouraged. Be patient and the right house will come along. According to Redfin, in November 2021, the bidding war rate hit its lowest point since 2020, with just 60% of buyers coming up against one. So, will the trend continue as we move further into 2022? Can buyers expect a less competitive market? The answer is yes. Those bidding war days are behind us as they are starting to dwindle, giving buyers more room to make decisions. Here are a few reasons why we'll see fewer bidding wars:
Mortgage Rates are Rising
Yes, rates are still at historic lows, but most experts predict a continued rise in rates as the year continues. Fannie Mae predicts average rates around 3.2% by 2022's end while others have a more bullish view, projecting 4% for the year (Mortgage Bankers Association). Without a doubt, rate increases are in the cards. As a result, this will dampen buyer demand. With fewer buyers comes fewer bidding wars and an easier market for those looking for their dream home.
Inflation Has Buyers Pulling Back
Inflation is on the rise. In fact, the Consumer Price Index increased 7% over the last 12 months as of December, marking the highest inflation rate seen in nearly 40 years. This has worried many consumers. Sadly, many have called it quits on their homebuying dreams. According to a Redfin survey, 29% of respondents said rising inflation has caused them to delay buying a home. The survey also stated that 11% had given up on home buying altogether. Inflation, just like rising rates, is another factor that should help alleviate competition and reduce bidding wars.
Supply is Expected to Increase
If you've been house hunting, you've seen the low inventory of houses on the market. The limited housing supply had a lot to do with last year's housing market. However, as the year goes on, experts say inventory will rise as we get further into 2022. Redfin predicts new listings will surpass 7.6 million this year, the biggest share since 2018, while Realtor.com is betting on a 0.3% increase in inventory for 2022. Increasing construction will help the pressure on supply as well. Don't get discouraged, there is light at the end of the tunnel for home buyers.
What Can You Do Now So You're Prepared to Buy Your Dream Home?
In today's highly competitive housing market, you'll want to make sure you are pre-approved first! Pre-approval gives you an advantage if you get into a multiple-offer scenario, and these days, it's likely you will. When a seller knows you're qualified to buy the home, you're in a better position to potentially win the bidding war. Overall, it's better to be prepared now and ready for when you find that perfect home. So, make sure to get pre-approved first.
Benefits of Getting Pre-Approved
You'll know how much you can afford.

Shows you're qualified.

Negotiate a better deal as the pre-approval removes uncertainty for the seller.

Beat out the competition.

Reduce time and close your loan faster.

Move one step closer to homeownership.
How to Prepare for a Bidding War
If you do come face to face in a bidding war situation, we want you to be prepared, especially if you've found the home of your dreams. Being prepared means you'll be able to move quickly and confidently in today's competitive market. Check out these Bidding War Tips:
Have your pre-approval letter in hand.

Know what you can afford. You'll want to make the highest offer, but don't ignore your budget. Bidding wars can get emotional, but you must be able to walk away if it doesn't make sense for your financial situation.

Make your best offer. Speak with your real estate agent. Find out how much competition there is. They will help you determine what factors might make your offer more enticing like flexible move-in dates, competitive offer price, minimal contingencies.

Write a Personal Letter to the sellers. Click here to learn how to write an award-winning Real Estate Offer Letter.

If you can, offer an all-cash deal.

Drop the contingencies.

Be available. Make sure to leave your information with the seller and invite them to contact you or your agent with any questions about your offer. Finally, respond to inquiries quickly and be flexible.
Bottom Line:
In today's competitive market it's best to be prepared and to arm yourself with as much home buying knowledge as possible. Although it may be challenging to find a home right now, as we get further into 2022, things will improve. Bidding wars should lessen, making home buying easier for those on the hunt.