Blog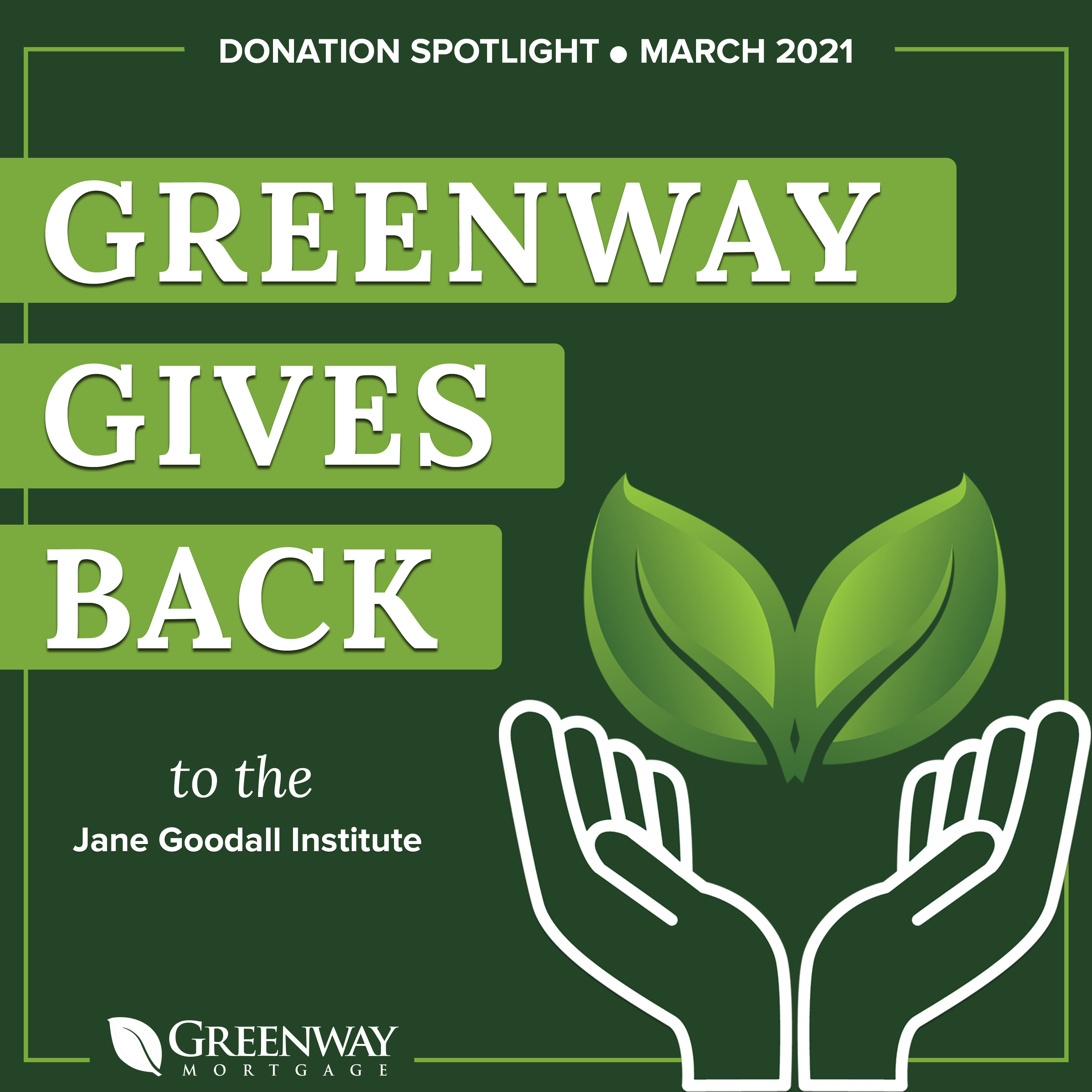 Here at Greenway Mortgage, our passion for homes and building community is mirrored in our charitable giving. We strive to make a difference to the communities we serve by giving back to local organizations and supporting local charities.
Throughout the years, giving back has been an important pillar of our mission. Greenway has supported dozens of local and national charities through donations and company-supported volunteer hours. For a Greenway team member, it's about our community and the people who live in it. We also strongly support environmental issues, animal rescue/advocacy, and helping the homeless find a place to call home.
Greenway Gives Back
This month, Greenway Mortgage is #givingback to the Jane Goodall Institute for our charitable donation. We have chosen this wonderful charity because of their mission in improving the lives of not only animals, but people and the environment, which is all near and dear to our hearts at Greenway Mortgage.
We sincerely hope that you'll consider making a donation as well in solidarity to help support this amazing organization and the vital work they do to make our world a better place.
About the Jane Goodall Institute
The Jane Goodall Institute is a global community conservation organization that advances the vision and work of Dr. Jane Goodall. By protecting chimpanzees and inspiring people to conserve the natural world we all share, they improve the lives of people, animals and the environment.
Many young chimpanzees end up as part of illegal exotic pet trade, abused and lonely. But, thanks to JGI, and the support of people making generous donations, these chimpanzees are able to live free and happy lives. Every donation goes towards protecting them, conserving critical habitat while strengthening surrounding communities, and empowering the next generation of conservation leaders. Simply put: it will save chimpanzees' lives.
Your support for JGI can chance the course of the future for many chimpanzees. Every donation provides funds to:
Eliminate the illegal commercial bushmeat trade.
Stop deforestation.
Provide a home for orphaned and inured chimpanzees.
Expand critical research at the Gombe Stream Research Center to increase their understanding of chimpanzee behaviors.
Engage the next generation by inspiring young people around the word to better understand their communities, encourage their curiosity about animals, and to take action.
Protect the critically important Endangered Species Act.
More than 1.4 million acres of great ape habitat are now protected and over 5,000 chimpanzees and gorillas are thriving in habits JGI protects. In addition, 130 communities are supported through their community-centered conservation programs that engage local people in protecting the environment across chimpanzees' habitat range.
We'll leave you with a quote from Jane Goodall herself, "The future of the planet and humanity is in our hands".
How You Can Help:
Check out some of our recent giving back stories and learn more about our causes:
​