Blog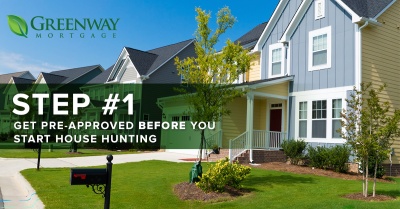 It's no secret that buying a home can be a complicated and confusing process. In fact, surveys over the years have shown just how stressful Americans say the process is. We're here to say, you're not alone!
In fact, many Americans, about 40%, say buying a new home is the most stressful event in modern life, according to a survey of 2,000 Americans by Homes.com. Another 44% said they felt nervous throughout the home-buying process.
Think of it like this, buying a home isn't a single action, but rather a series of small steps that eventually lead you the dream to homeownership. Each step in the process has its own challenges. That's why our number one goal is to make the mortgage process a breeze for our first-time homebuyers AND for our seasoned homeowners.
If you're currently in the process of buying your first house keep reading! We've got some major tips to help keep your stress at bay!
Some common questions you may have early on in the process are the following:
At what point do I need to secure my pre-approval letter?
Should I shop around for mortgage rates first?
How much documentation would I need to provide before a lender would pre-approve me for a mortgage?
We promise you, at the end of the mortgage process, you'll realize that it's a fairly simple process! And because Greenway has your back throughout it all!
Step #1: Get Pre-Approved!
If you're thinking about house hunting, the first step you should take is getting pre-approved. In order to make an offer on a house, your real estate agent will want you to have a pre-approval letter in hand.
Why? A pre-approval letter is a statement from the lender that you qualify for a specific mortgage amount based on an underwriter's review of all of your financing information (credit report, pay stubs, bank statement, assets, salary, etc). Getting an upfront loan approval will help you beat out the competition, negotiate with power and let you know how much you can afford.
What is Pre-Qualification?
Getting pre-qualified is important if you are just looking around, thinking about buying a house. Home loan pre-qualification helps you get a better idea of what size and type of mortgage you might qualify for in advance of submitting your actual mortgage application. With this information in hand, you can better plan and prepare financially for meeting your home ownership goals.
Tip: If you're serious about buying a home, we highly recommend getting yourself-pre-approved to avoid losing out on the home of your dreams.
Getting Pre-Approved During COVID-19
Over the past few months, sellers and listing agents have been extremely cautious about who is coming into their homes due to the COVID-19 outbreak.
Having that pre-approval letter is key during this time especially because agents and sellers want to come in contact with as few people as possible. A pre-approval letter will show them that you're taking the process seriously. In fact, it may be your ticket into the homes you want to tour! So, what are you waiting for? Click here to get your pre-approval letter today.
The Good News About Getting Pre-Approved
The good news is, our online pre-approval application doesn't take long. You'll want to get yourself prepared with the necessary documents before you start. All of this and more will be needed once your loan is in process, so you may as well put it together now!
Pay stubs – last 30 days
W2s – last 2 years
Federal tax returns – last 2 years, all pages and schedules
Bank statements – Last 2 months, all pages
Realtor and attorney contact info
Copy of photo ID – must be legible
Trust us, having this letter in hand will save you so much time and stress! And you won't have to worry about someone else making on offer on the home you had your eye on.
Mortgage Rates
If you're in the market for a new home, this summer might be a good time to buy! Rates are low. How low? Contact your Greenway Loan Officer to discuss your financing options and to see what type of rate you could get.
Tip: Lower rates translate to lower monthly payments. That means you may be able to purchase more home for the same monthly payment or have a lower payment for the home you've always wanted.
As always, Greenway is here to help when you're ready. Give us a call [888-616-9885] or visit us online to learn more.
Helpful Resources: