Blog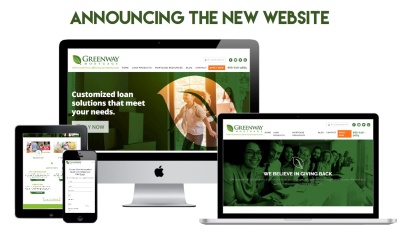 We are delighted to officially announce the launch of our newly redesigned website. You can still find us at www.greenwaymortgage.com .
WHY A SITE REDESIGN?
At Greenway Mortgage, our Loan Officers work hard to put clients first. We build trust and friendship with our clients becauseit allows us to offer a personalized approach to finding the mortgage program that meets their needs. This is why we redesigned our site, so we can offer you (our clients) the right mortgage solution whether you're buying a new home, buying a vacation home, or simply refinancing your existing mortgage.
OUR MAIN GOALS
Our main goal with this new website is to provide our visitors an easier way to learn more about Greenway Mortgage, our services, and what we have to offer.
Together will all the great features and functions found on our old website, the modern design is now mobile friendly and easily accessible from all your devices. The website boasts a clean design and intuitive and consistent site-wide navigation system with improved menu functionality that directs you to the information most relevant to you.
Going forward, we will constantly be updating our content with helpful information, articles, blogs, company announcements and client successes on each of our Loan Officer's Testimonial Pages.
EASY ACCESS
You will be thrilled to know that greenwaymortgage.com is a "one-stop-shop" for all your mortgage needs with easy access to: (below will have links)
and so much more!
We hope you find the new website fresh, modern and easy to access information. We worked hard to make sure it contains valuable mortgage related information to assist you with all of your mortgage needs when you pay us a visit.
We invite you to take a few minutes to browse through our new site: www.greenwaymortgage.com.