Blog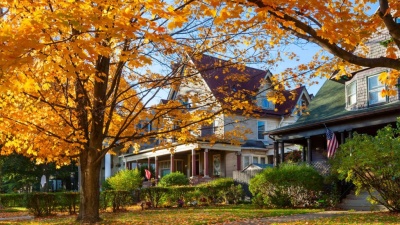 Autumn is in full swing. Kids are back at school, football has started, and the weather is cooling off. In fact, fall is a great time to get a great deal on a new home especially because current market conditions are favorable toward buyers in many areas.
Most home buyers assume buying in the spring or summer gets you the best selection and home shopping opportunities. Experts would disagree. Home buying the in the fall -- especially fall of 2019 -- can yield huge savings on the mortgage rate and home price. It's wise to start shopping now and take advantage of this window, before the holidays and the cold weather hit.
Here are 3 Reasons why Fall 2019 is the Time to Buy:
Reason #1: Interest Rates are at Historical Lows
Rates are currently at or near three-year lows. And they're expected to stay low through the autumn. If you're thinking about buying a home, taking advantage of these low interest rates can be paramount for your purchasing power. Locking in a low interest rate will save you a lot of money later down the road and even in the near future.
Reason #2: Lower Prices
Fall produces urgent sellers. Most sellers list their homes in the spring and summer. If the seller's house is still sitting on the market in the fall, they are likely willing to lower prices. For buyers, this is a leverage point for you to lock in a good rate and to get a great deal on the purchase price of a new home.
Reason #3: Less Competition
Between September and December there is less home buyers searching for homes. Why? Because many buyers and sellers get their real estate business done before the school year starts. Therefore, come the holidays, there is less home buyers searching. In addition, cooler weather also gives you an edge when looking for a home. Potential buyers favor warmer weather when they don't have to brave the cold or snowy conditions.
Now is the Time
If you want to capitalize on the fall market, now is the time. We can't stress enough that today's low mortgage rates are favorable for buyers. Take advantage and lock in a low rate!
Get Ahead of the Game
Be sure to check out homes for sale, make sure to get pre-approved FIRST, and speak with your local Greenway Loan Officer to discuss your mortgage options. With the right planning and preparation, you could land your desired home for less and be moved in before next year!