Blog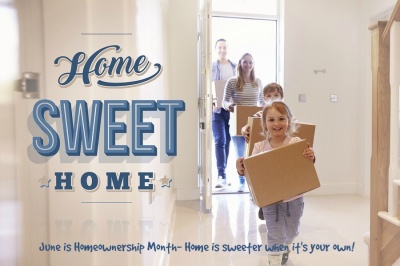 June is National Homeownership Month, a time to celebrate the benefits that homeownership brings to families, neighborhoods, and communities across America. Not only does homeownership change lives and enhance futures, it is part of the American Dream.
To this day, there continues to be a noticeable shift from renting to homeownership, especially among young buyers. It's a way for people to increase their wealth and home equity. Keep reading to learn about some of the key benefits that homeownership has to offer.
How Did Homeownership Month Start?
National Homeownership Month started as a week-long celebration of homeownership during the Clinton administration in 1995. In 2002, President George W. Bush proclaimed June as the National Homeownership Month. Today, the mortgage industry continues the message of helping people realize the dream of responsible homeownership.
Knowledge is Power
Throughout June, Greenway Mortgage will be sharing some informational pieces on homeownership as we want to raise awareness and encourage more people to consider the benefits of buying their own home. With that said, let's dive into some of those important
benefits
and discuss some of the prep work that is required in order to achieve the dream of homeownership.
Benefits of Homeownership:
Provides stability.

Creates positive environments for families.

Improves neighborhoods.

Homeowners are more involved in civic affairs, including voting in the last election and knowing their elected officials.

Builds wealth.

Provides possible tax benefits.
Prep Work:
Know your credit score. Having a healthy credit score is vital to the home buying process. Figure out where your credit score stands and strategize some improvements, if necessary.

Build your savings. Home buyers will need money available for a down payment and closing costs. This is a great time sit down and get real about your financials. Make a budget, create a timeline and set yourself some saving goals.

Figure out your price range. Once you have a handle on your financial situation, the next step is to determine out how much money you can spend. Keep this number in mind when you meet with your real estate agent and Greenway Mortgage Loan Officer.

Do your research. Research the area you would like to purchase your home. Take note of school districts, commute times, nearby parks or shopping, and any other things you feel are important to you.

Find a real estate agent. It is important to have a trusted real estate agent by your side during your home buying journey. Find someone you can rely on and feel comfortable with.

Get your documents in order. A lot of paperwork goes into getting a home loan. Come out on top by getting organized and locating necessary papers ahead of time. Have on hand recent paystubs, W-2s from the past 2 years, recent tax returns and bank and asset statements.

Meet with a Greenway Loan Officer. It is crucial to meet with a lender to get pre-approved for a home loan so you know how much home you can afford. This should always be step #1. Also, having a pre-approval letter puts you at an advantage when dealing with a potential seller, as he or she will know you're one step closer to getting a mortgage.
Are you a First-Time Home Buyer?
To encourage and educate aspiring home buyers, Greenway offers free information and
resources
. You can visit us
online
to learn more about buying your first home, first-time home buyer resources, videos, and so much more. Here are a few helpful links which you might want to check out if you're a future home buyer.
Greenway Mortgage is proud to be a part of the industry that makes homeownership a reality for so many Americans! When you're ready to get your journey started, reach out to us!