Blog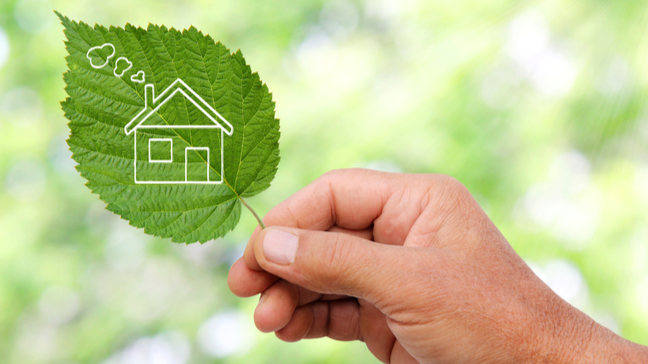 Green mortgages do exist, but what exactly are they? Green mortgages are an environmentally friendly type of home loan. How do you make a mortgage environmentally friendly; you might ask? Green mortgages, also known as Energy Efficient Mortgages (EEM), are a special type of loan designed to make your home more energy efficient while saving you money at the same time. Interesting, right?
How Do Green Mortgages Work?
These loans help you borrow money to pay for energy efficient upgrades to your home. The cost can be added into the mortgage or rolled into your current mortgage through an energy efficient refinance to allow you to make improvements to your current home. It's an affordable way to make upgrades that may be costly up front, but in the long run will save you money.
What Can You Use Energy Efficient Mortgages Towards?
Whether you're a homeowner looking to improve your current home or are shopping for a home to purchase, you can use an EEM to make energy-efficient improvements. Changes you make to your home can improve energy efficiency and lower heating/cooling costs. An important bonus: These improvements can add to the value of your home.
Installing Double-pane windows
Replacing outdated air ducks
Replacing old insulation
Tankless water heaters
High Efficiency Furnace or Air Condition System
Can a Green Mortgage Reduce Your Home's Carbon Footprint?
According to the Center for Climate and Energy Solutions, the average U.S. family can spend $2,000 a year on energy bills, which means reducing your home energy use is the single most effective way to save money and reduce your home's contribution to climate change. In fact, here are some interesting statistics to think about:
You can save 10% on energy costs by insulating, sealing, and weather-stripping the cracks around your windows and doors.

By sealing and insulating the ducts in your heating system, you can improve efficiency by as much as 20%.

According to the Department of Energy, energy loss from outdated windows accounts for nearly 25% of the annual heating and cooling costs for the average American home.

New energy-efficient heating or cooling equipment can cut your energy use by 20% or more.

The Environmental Protection Agency reports that you could save roughly $180 a year by using a programmable thermostat.
Overall, EEM's allow families to save money, help the environment and help you to live more comfortably. Energy efficient homes tend to be cooler in the summer and warmer in the winter, cost less to maintain and have lower utility costs.
What Types of Green Mortgages does Greenway Offer?
Greenway Mortgage is proud to introduce our Green Mortgage Program that helps homeowners add energy efficient features to their home. Take a look below at the two types of EEM's we offer:
FHA Energy Efficient Mortgage
This type of EEM provides additional financing that equals the lesser of 5% of the home's appraised value, 115% of the median area price of a single-family dwelling, or 150% of the national conforming mortgage limit in the area. Click here to view the current FHA Loan Limits.
Contact Greenway Mortgage for more information and to see if you qualify.
VA Energy Efficient Mortgage
Military members, veterans, and their families who want to go green in their homes can do so with a VA Energy Efficient Mortgage. If the borrower is planning on making energy-efficient upgrades in the home, they have six months following the closing of their loan to complete those projects. If the borrower hopes to purchase a home that is already energy-efficient, the lender may increase the loan by as much as $6,000, so long as it meets specific energy-efficient standards.
For more information regarding the VA EMM and to see if you're eligible, reach out to Greenway Mortgage.
Who Is an EMM Designed For & What Are Some Benefits?
Anyone can qualify for an energy efficient mortgage. However, the lender must validate that your home is an energy efficient property or that the improvement projects you want to pursue to make it an energy-efficient property are cost-effective.

An EEM can benefit those who hope to make a competitive offer on a house. Not only will the financing fund the energy efficient upgrades, but it can increase their offer price to beat out other buyers.

If you're someone who intends to own your home for many years, EMMs make sense as you'll be able to reap the savings benefits.

If you want to increase the value of your home energy-efficient upgrades are key. Some home buyers will pay more for a house with green updated features.

If you're a homeowner with an energy-efficient home, you may be eligible for tax credits and rebates. Consult with your tax advisor for more information.
Bottom Line
If energy efficiency is important to you, a Green Mortgage may be something to think about as it reaps many homeowner benefits. For more information and to see if you quality for our Green Mortgage Program reach out to the experts at Greenway Mortgage.