Blog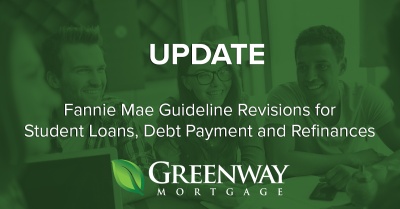 On April 25th, Fannie Mae (FNMA), the US's largest entity that provides funding for the mortgage market, released updated guidelines for mortgages they provide financing for. The full text of which can be found here,
https://www.fanniemae.com/content/announcement/sel1704.pdf
. A lot of industry lingo there so below we've boiled it down to what matters to borrowers and real estate professionals.
Many of the changes favor the first-time buyers and Millennials. Factors that may have prevented or deferred a prospective homebuyer from obtaining a home loan now make mortgage qualification a reality.
DEBTS PAID BY OTHERS
WHAT IT SAYS
If the lender obtains documentation that a non-mortgage debt has been satisfactorily paid by another party for the past 12 months, then the debt can be excluded from the debt-to-income ratio. This policy applies regardless of whether the other party is obligated on the debt.
WHAT IT MEANS TO YOU
In the past, a borrower's loan or debt payments could only be used to reduce that debt if it was paid by them. Meaning, if your parents were paying down your credit card or student loan for you, we still had to count the portion they paid as part of your debt to income (DTI) ratios.
Now, so long as timely payment history for the last 12 months is demonstrated, we can exclude that payment from the DTI calculation - regardless of who made the payments. A lower DTI will help many buyers achieve qualification where they were previously not able to.
STUDENT LOAN PAYMENT CALCULATION
WHAT IT SAYS
Student Loan Payment Calculation - If a payment amount is provided on the credit report, that amount can be used for qualifying purposes. If the credit report does not identify a payment amount (or reflects $0), the lender can use either 1% of the outstanding student loan balance or a calculated payment that will fully amortize the loan based on the documented loan repayment terms.
WHAT IT MEANS TO YOU
Before, the student loan payment we used to calculate your DTI had to be 1% of the outstanding balance. Now, we can use the payment amount listed on your credit report (which is typically less than 1%) or, if no payment is listed, a payment calculated from the loan terms. Again, this can translate into a lower DTI for prospective buyers. NOTE: This applies to conventional loans only. The FHA guideline has not changed and requires the 1% be used.
CONDO ELIGIBILITY WAIVER ON REFINANCES
WHAT IT SAYS
Project eligibility review waived for certain Fannie Mae-owned loans that are being refinanced as a limited cash-out refinance. The lender must confirm the following: (1) The loan-to-value ratio is no higher than 80% (CLTV or HCLTV ratios may be higher); (2) The project has the required project-related property and flood insurance coverage; and (3) The project is not a condo hotel or motel, houseboat project, or a timeshare or segmented ownership project.
WHAT IT MEANS TO YOU
Fannie Mae requires a condo questionnaire be completed for all transactions which indicates: HOA fee delinquencies by current owners, if there is litigation against the HOA and rental (investor) concentration. These things can render the condo complex "non-warrantable". Meaning we are unable to make a FNMA loan on units there, even if we are refinancing a property that already has a FNMA mortgage.
Now, we are able to do a rate and term refinance (i.e. not cash out) on a property that currently has a Fannie Mae mortgage even if the eligibility no longer or never existed so long as the loan to value does not exceed 80% and the property is properly insured.
RECENTLY LISTED PROPERTY REFINANCES
WHAT IT SAYS
Properties listed must be off the market at disbursement date of the new loan.
WHAT IT MEANS TO YOU
Previously, a borrower had to wait until their property was off the market for 6 months before they were able to apply for a cash-out refinance. That guideline has been eliminated and now only has to be off-market when the refinance loan closes.
These changes may not seem like much but the impact on qualification for many home owners and prospective buyers may be significant. Greenway Mortgage is ready to help you figure out what program is right for you. We offer a wide array of products and can pre-approve you for a mortgage and payment about so reach out today.